Quality Certification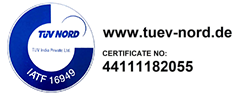 Quick Contact
6363922746 / 741
shivapraveena.v@aceforge.in
v.rajarama@aceforge.in
Aluminum Forging Companies in India
Aluminum forgings have various applications in certain fields like aerospace, power units, high performance applications. Ace forge is one of the aluminum forging companies in India with the state-of-the-art facilities and delivering high performance forged aluminum parts to reliable partners.
Ace Forge is a leading supplier of aluminum forgings for aerospace and various industrial applications. Aluminum forgings are used in areas where structural integrity is more important like aircraft industry. The strength and safety of these forgings with light weight makes it idle for aerospace applications. The same components can be manufactured through other manufacturing process but they can't replace the strength and durability of forging parts. Aluminum forgings can withstand extreme climatic conditions also.
Features of Aluminum Forgings
High strength to weight ratio
Corrosion resistance
Low density compared to steel
Strong and Durable
We have stood as the best aluminum forging companies in India delivering high strength aluminum forging parts as per your specifications in required quantities at specified time. Request a quote by using contact form.