Quality Certification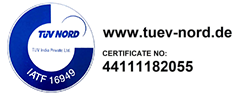 Quick Contact
6363922746 / 741
shivapraveena.v@aceforge.in
v.rajarama@aceforge.in
Facilities
We have facilities which enhance our productivity and serves to suit better achievement on high quality components produced. Built-up area 15,000 sq. feet. Located at Jigani Industrial Area in the Bangalore district of Southern India.
The Forge shop consists of 5 cold forging presses:
1. 600 Ton Komatsu Mechanical press (Japan)
2. 500 Ton Chimaho Hydraulic Press (India)
3. 250 Ton Bernaul Mechanical press (Russia)
4. 230 Ton Monza Hydraulic press (Italy)
5. 100 Ton Mechanical press (England)
Also consists:
1. Billet shearing machine (can crop upto Dia.32 mm).
2. 15 ton Thread rolling machine.
Heat Treatment facilities:
1. Pit type annealing furnaces with inert gas atmosphere for steel and aluminum material capable of handling upto 800 kgs per batch.
2. Solutionizing and aging furnaces for aluminum part heat treatment.
Tool room:
1. Lathe machines for turning.
2. Surface grinding machine.
3. Cylindrical grinding for ID & OD.
4. Tool polishing & lapping facility.
Quality control:
1. All types of contact measuring instrument.
2. Profile projector.
3. Coating thickness gauge.
4. Attribute gauges for most of the parts.
Others:
1. HT power connection to support all machineries.
2. 125 KVa DG for captive power generation.
3. Two compressors to support our forging presses & other accessories.