Quality Certification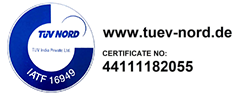 Quick Contacts
6363922746 / 741
shivapraveena.v@aceforge.in
v.rajarama@aceforge.in
Welcome to Ace Forge Private Limited
AFPL was founded in the year 1997, and has been a leading supplier of cold forged products ever since. With a strong design team and a quest for innovation, Ace Forge has successfully developed a lot of complicated automotive and aerospace parts through the cold forming route.
Being a customer centric organisation, we have been able to achieve consistent revenue growth over the years. With each part we work with our customers to optimize the net shape forming of the parts, to save machining cost and increase customer value. We are an ISO 9001:2015 & IATF 16949:2016 certified company processing around 4 million parts every month
Our specialization
Precision cold forgings from Plain carbon Steel, Alloy steel, Stainless steel, Aluminum, Aluminum alloy, copper and Brass.
Complex profiles in
cold forging processes.
Cold forged and CNC machined components.
Cater to Automotive, Locomotive, Aerospace and industrial applications.
Strength
Design center for tooling
CAD workstations
Experienced designers
Highly experienced technical advisors
Highly skilled technicians