Quality Certification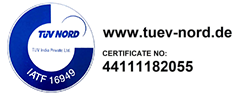 Quick Contact
6363922746 / 741
shivapraveena.v@aceforge.in
v.rajarama@aceforge.in
Quality
Quality is the promise of our commitment to buyers who have chosen AFPL. We leave no stones unturned in meeting with delivery requirements and continuous quality upgradation. Our consistency and stringent quality assurance is evident from the high performance rating received. We supply parts as per INDIAN and INTERNATIONAL specifications.
We are approved as OE suppliers by many Automobile, Aerospace and Engineering industries.
We have system of APQP, PPAP for development of new product. We have a very strong system of Calibration of gauges/instruments, Traceability, Preventive maintenance, IQA, Tool life monitoring.
AFPL is an ISO 9001:2015 certified company since year 2004 and recently certified as IATF 16949:2016 company.
Quality Certificates