Quality Certification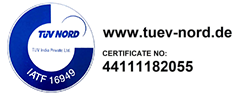 Quick Contact
6363922746 / 741
shivapraveena.v@aceforge.in
v.rajarama@aceforge.in
Automotive Forging Companies in Bangalore
Ace Forge provides innovative forging solutions for a wide variety of high-impact applications. Our manufacturing process creates durable, reliable, and precision engineered products and has helped us gain a respectable position among automotive forging companies in Bangalore.
With more than two decades of experience in fabricating forged components with extensive in-house facility, we are a preferred choice in the industry.
Strong forging foundation
Persistent maintenance of quality over the years, has helped Ace Forge gain an edge over others in the industry. This has also helped us build good relationships with out clients and expanding our reach to sophisticated markets. Our proactive approach to stay abreast of the technological advancements and incorporate the same in our manufacturing process has helped us to add new cold forged components to our portfolio.
Our major strength lies in the stringent quality checks to ensure top of the line products which rate higher in quality and accuracy. We cater to a number of clients and have forged a special niche for our quality and are a trusted name among automotive forging companies in Bangalore.