Quality Certification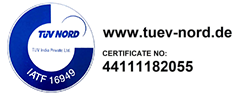 Quick Contact
6363922746 / 741
shivapraveena.v@aceforge.in
v.rajarama@aceforge.in
Automotive Parts Manufacturers in Bangalore
Ace Forge provides the widest range of solutions to the automotive industry and is among the leading automotive parts manufacturers in Bangalore. With more than two decades of experience in delivering the best-in-class automotive parts made from Steel, Aluminium, Copper and Brass materials, we have established a name for our quality products.
Innovative precision engineering
The automotive industry is itself diversified and delivering the top-notch products is no less than a challenge. We, at Ace Forge, are committed to delivering stringent and quality assured products as per the International and Indian standards. Our facility spread across 15,000 Sq. Ft., encompasses state-of-the-art machinery to manufacture axel parts, chasis parts, engine parts, transmission and differential parts. Being among the best automotive parts manufacturers in Bangalore, our highly skilled and experienced team ensures that customers' needs and expectations are met. We take pride in the fact that we have provided the automotive industry with a large number of customized solutions suited to the local needs and environment. We help our clients by clearly defining product offerings to be cost-effective, and streamline overall program management timelines and expenses.