Quality Certification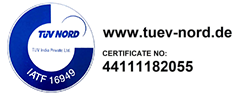 Quick Contact
6363922746 / 741
shivapraveena.v@aceforge.in
v.rajarama@aceforge.in
Automotive Parts Manufacturers in India
Ace Forge is one of the best automotive parts manufacturer in India. Underlying technique in our manufacturing process is forging. Forging is a one of the oldest and best technique still being used today as one of the best manufacturing process in many industries. It is a process that involves moulding metal into the desired shape and size by application of compressive forces. The compressive forces are applied by hammering, pressing or rolling. Forging is of two types based on the temperature at which it is performed, cold forging and hot forging.Wide range of metal can be forged. Most commonly used metals in forging are carbon steel, alloy steel, aluminum, copper, brass etc.
Forging – The Best Manufacturing Process
The parts manufactured tend to have more strength. The high mechanical strength, impact and wear resistance of forging parts makes them withstand high temperatures and pressures. The strength, reliability and affordable price of forged parts make them ideal for using in automotive, automobile, aerospace and other industrial applications.
Looking for the Best Forging Companies in Bangalore– Call 91-80-41201720