Quality Certification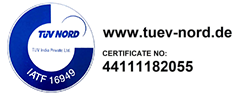 Quick Contact
6363922746 / 741
shivapraveena.v@aceforge.in
v.rajarama@aceforge.in
Forged Copper Automotive Parts in India
Ace Forge is valued supplier of Forged Copper Automotive Parts in India. Copper forgings offer a numerous advantages than components manufactured through other process. We offer cold forgings of Electrolytic Copper which is oxygen-free high thermal conductivity copper, Tellurium Copper which is resistant to hydrogen embrittlement and also offers high thermal and electrical conductivity, Brass which is an alloy of copper and Zinc.
Advantages of Copper Forgings
Improved Strength and Abrasion
Dimensional Precision better than casting
Reasonable Cost
Minimum Waste of Raw Material
Copper itself has good inherent properties. When it is forged exhibits improved physical and mechanical properties. The ease of forging copper in any form plates, wires, rods is more helpful to manufacturer. Forging of copper imparts refined grain structure due to which it exhibit high tensile strength, impact resistance. These forgings due to refined grain structure and no voids permit thin cross-section components for lightweight application which require high strength.
For more insights of Forged Copper Automotive Parts or quotation. Call 91-80-41201720 or send your requirement through enquiry form.