Quality Certification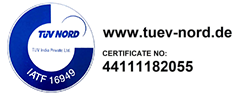 Quick Contact
6363922746 / 741
shivapraveena.v@aceforge.in
v.rajarama@aceforge.in
Automobile Spare Parts Manufacturing Companies
Ace Forge is a one of the leading Automobile Spare parts Manufacturing Companies serving industry with its best quality forgings. We manufacture forgings of different sizes, shapes and specifications as per the client requirement. Automobile spare parts are manufactured by our skilled labor with high end equipment and techniques. We have specialized team to inspect defective products in precision before delivery. The performance of our forgings meets the international quality standards.
Why forging parts is preferred in automotive applications?
Automotive Industry needs components that can bear heavy loads at high speed and these parts should possess light weight to reduce fuel consumption. Forging parts can bear high loads and stresses than parts manufactured through other processes. The high strength to weight ratio of these forgings also makes best suitable for automotive applications. Over-all cost of production is less due to less material wastage and requires no further processing.Imparts better strength, ductility, impact resistance etc.
Looking for best automobile spare parts manufacturing companies then give a call to 91-80-41201720