Quality Certification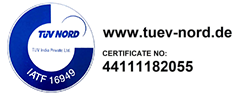 Quick Contact
6363922746 / 741
shivapraveena.v@aceforge.in
v.rajarama@aceforge.in
Automobile Spare Parts Manufacturers
Ace Forge caters to the forging parts needs of automobile industry. Now we are emerging as a leading automobile spare parts manufacturer in India. There are different methods like casting, forging, machining etc., to manufacture the automobile parts. Forging is the most preferred method by many automobile parts manufacturers. This process is very economical due to less material usage. We adopted forging manufacturing process with the aim of providing superior quality components at best price.
Steel forgings are used by many automotive manufacturing companies which created demand from our clients. We manufacture plain carbon steel, low alloy steels, stainless steel components which are corrosion resistant. Depending on the amount of carbon, carbon steels require heat treatment to impart more yield, impact strength and wear resistance. Due to the durability and strength steel forgings will give outstanding performance by withstanding high stress.
Our expertise in this field made us renowned automobile spare parts manufacturers in India. For more information drop your details in enquiry form. Our team will assist you for further details.