Quality Certification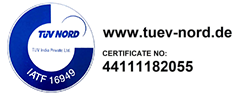 Quick Contact
6363922746 / 741
shivapraveena.v@aceforge.in
v.rajarama@aceforge.in
Best Automotive Parts Manufacturers
Ace Forge having renowned clients all over India, has emerged as one of the best automotive parts manufacturers. The trust we gave to them, made us stand as the best automotive parts manufacturers in India.
Future of Forgings
Forging Industry is the major contributor of Indian manufacturing industry. India is now emerging as a global supplier of auto components industry. The substantial growth of automotive industry has given opportunities to manufacturers and suppliers.
We are tier 1, OEM suppliers for various industries especially automotive. Ace forge supplies forging parts to the OEM suppliers who assemble them to produce the product. The precise forgings we manufacture are widely used in many industrial applications
Forgings Applications
Automotive - Commercial vehicles, passenger cars, motor cycles
Aerospace - Aircraft engine, airframe and auxiliary equipment
Locomotive - Braking systems, transmissions
Other industrial, machinery and equipment including power generation and transmission, textile, refinery industries, construction, mining etc.
Ace Forge strives to be the trademark for automobile parts manufacturing companies and best automotive parts manufacturers in India. We deliver optimum solution to your industrial applications. For more information, call: 91-80-41201720