Quality Certification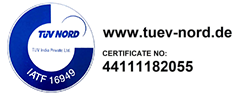 Quick Contact
6363922746 / 741
shivapraveena.v@aceforge.in
v.rajarama@aceforge.in
Automotive parts manufacturing companies in Bangalore
Ace Forge is among the recognized leading automotive parts manufacturing companies in Bangalore. We bridge gap between the cost-effective solutions and high technical expertise by catering to our clients' requirements. With a vast experience of more than two decades, we have grown into a state-of-the-art manufacturing company with an ability to scale up supplies to our ever-growing clientele.
Committed to excellence
Automotive industry is an old and ever-growing industry with technological developments driving the need to stay abreast of the advancements. We, at Ace Forge, stay on top of the developments and strive to deliver the best automotive parts to our customers. Our facility spread across 15,000 Sq. Ft., encompasses state-of-the-art machinery to manufacture axel parts, chasis parts, engine parts, transmission and differential parts. This makes us one of the best automotive parts manufacturing companies in Bangalore.
Quality and customer satisfaction is of utmost importance in Ace Forge. Cutting-edge technology and price competitiveness help us achieve even the trickiest of the projects.