Quality Certification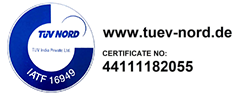 Quick Contact
6363922746 / 741
shivapraveena.v@aceforge.in
v.rajarama@aceforge.in
Automotive Steel Component Manufacturers
Ace forge is one of the largest automotive steel component manufacturers with product portfolio encompassing cold forged components, automotive and aerospace OEMs from all types of materials like Steel, Aluminium, Copper and Brass.
We are considered as one of the best manufacturing automotive steel component manufacturers. With our 15000 Sq. Ft. facility well-equipped with advance technology and engineering facilities, we manufacture automotive steel components of the highest quality, functionality and cost-effectiveness.
Perfection, Precision & Performance
We are an ISO 9001:2008 and ISO/TS 16949:2009 certified company accredited by TUV Rheinland. We commenced our operations in 1997 and since then we adhere to our quality standards. Our experts analyze the clients' requirement, suggest the best solutions and then take it forward for manufacturing. The forged parts supplied by us are wear & tear resistant, durable, reliable and accurate in dimensions.
After years of experience, technology research and investment, Ace Forge owns the best machinery and equipment. This makes us one of the leading automotive steel component manufacturers.