Quality Certification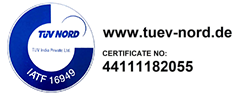 Quick Contact
6363922746 / 741
shivapraveena.v@aceforge.in
v.rajarama@aceforge.in
Cold Forging Automotive parts Suppliers
Ace Forge Net is a premier cold forging automotive parts supplier which are utilized throughout the entire automotive system. Our experts have the ability to design and fabricate precision cold forged part with a focus on cost, weight and performance.
Since cold forging results in near-to net shape products, our team goes the extra mile to achieve the highest possible accuracy by using the latest material and technology.
Acing the cold forge process
Backed with rich experience in the automotive industry, we are counted among the leading cold forging automotive parts suppliers. Our parts are manufactured in compliance with the International standards and what makes us unique is ISO 9001:2008 & ISO/TS 16949: 2009 certification to each of our products. You need not worry about the quality and specification of the product. Resistance to corrosion, light weight and accuracy are some of the superlative features of our cold forged parts. Offered in variety of shapes and sizes, our cold forged automotive parts are extensively used to manufacture gear and spline shafts.
Cold forging method enables the production of near net shape parts with a tolerance of tenths of millimeters in diameter, making is easier for post forging machining.