Quality Certification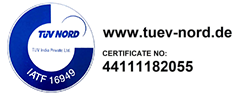 Quick Contact
6363922746 / 741
shivapraveena.v@aceforge.in
v.rajarama@aceforge.in
Forged Brass Auto Parts Manufacturers
An ISO 9001:2008 and ISO/TS 16949:2009 certified company, Ace Forge is a leading forged brass auto parts manufacturers. The advanced technology and experience of more than 20 years gives us an edge over others to supply quality products to our customers.
We are considered as one of the best manufacturing units for forged brass automotive parts, equipped with advance in-house technology with highest quality and cost effectiveness.
Honing the properties of Brass
We offer cost effective brass components in various dimensions and shapes as desired by our customers. These components find applications in petroleum and natural gas companies, chemical industries, petrochemical and pharmaceutical industries. Our components are recognized for their durability, compact design and resistance to abrasion.
Salient features of brass forged components:
Available in varied sizes and shapes with high precision and accuracy
Superior quality raw material
Enhanced durability
To cater to the ever-increasing demand, we are trusted name among forged brass auto parts manufacturers.