Quality Certification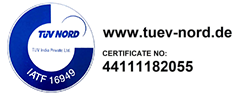 Quick Contact
6363922746 / 741
shivapraveena.v@aceforge.in
v.rajarama@aceforge.in
Railway Component Manufacturers in India
Since the Indian Railways has the largest transportation network in India, we, at Ace Forge take a foot forward in uplifting the face of the railway industry by being the leading railway component manufacturer in India. Indian Railways has a diversified portfolio of services like passenger train, goods trains and wagons.
Uplifting the face of the Indian Railways
Ace Forge has been catering to the requirements of the Indian Railways for over 2 decades. Our facility occupying 15,000 Sq. Ft. area, is equipped to manufacture best parts and components for goods wagon and passenger coaches. With ISO 9001:2008 and ISO/TS 16949:2009 certification, we are a preferred supplier for the Indian Railways, which is a veritable lifeline for India.
We are on the fast track to become the market leaders through better R&D and leveraging the latest technology. At, Ace Forge we continually refine and improve our engineering techniques by adhering to stringent quality norms. Our components are durable, corrosion resistant, reliable and quality certified. Our capability as one of the leaders among railway component manufacturer in India gives us tremendous opportunity to showcase our advanced technology.