Quality Certification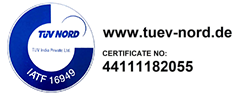 Quick Contact
6363922746 / 741
shivapraveena.v@aceforge.in
v.rajarama@aceforge.in
Locomotive parts manufacturers in India
Ace Forge being established 1997 has grown as a renowned locomotive parts manufacturers in India. The locomotive parts should withstand high speed of train and adverse conditions. We ensure to equip you with the world class facilities and equipment to deliver premium quality products that will satisfy the requirement of locomotive industry. We are committed to delivering even complex parts with the highest precision and accuracy at specified time. We take pride in manufacturing locomotive forging parts for many OEM suppliers.
Revolutionizing steel forging
AFPL are one of the leading manufacturers of forgings of plain carbon steels, low alloy, stainless steels, and non-ferrous materials for locomotive industry. Since our inception we have built trust of our clients by delivering exceptional quality forgings as per their specification with in committed time.
Some of Locomotive forging parts we offer
Coupling washer
Locking washer- Type 1 & Type 2
Operating lever assembly
Sliding block
Value blank - Type 1 & Type 2
For standard locomotive parts manufacturers in India. Please contact us through enquiry form to discuss the requirement.