Quality Certification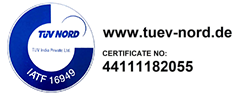 Quick Contact
6363922746 / 741
shivapraveena.v@aceforge.in
v.rajarama@aceforge.in
Forging Machine Parts Manufacturers
We value customers, understand their needs and strive to deliver the best solution. We make continuous technology upgradation, quality enhancement to sustain the competition among forging machine parts manufacturers.
Ace Forge specializes in various metal forgings like steel, copper, aluminum, brass etc. Each metal forging has its own applications. Steel forgings impart high strength, better surface finish and cost-effectiveness. Used in automotive, aerospace industries etc. Aluminum components are used in challenging environment where high performance and safety are needed with less weight. It has many applications in industries like aircrafts, defense, railway and for specific needs like race cars etc.
Copper and brass parts have more advantages if manufactured through forging process. They offer high density, superior mechanical properties, electrical and thermal conductivity, corrosion resistance etc., and are also economical. Copper forgings are used in energy-efficient motors, valves, pumps and compressors.
We take pride in being the best forging machine parts manufacturers. For detailed information, call us 91-80-41201720 or contact through enquiry form.