Quality Certification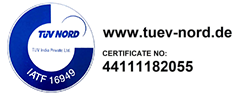 Quick Contact
6363922746 / 741
shivapraveena.v@aceforge.in
v.rajarama@aceforge.in
Aerospace Components Manufacturers & Suppliers India
With aerospace industry expanding at a fast pace, Ace Forge has emerged as one of the leading aerospace components manufacturers & suppliers in India. Our company has reached sky heights when it comes to aerospace components. Today, our precision components take to the skies every day!
Touching skies with our aerospace components
Aerospace component primarily includes aircraft engines and parts, propeller and rotor, landing gear, control systems, and avionic systems. Our aerospace components are designed using advanced machines & technology and can be customizes as per the clients' requirement. Established in 1997, we are now successfully leading in the aerospace component industry. We never compromise on quality and are certified with ISO 9001:2008 and ISO/TS 16949:2009 certificates.
Our specifications include
• High quality aerospace components • Long lasting and innovative products • Precision customized as per requirement • Staying updated with the latest technology
Realizing the need for high quality aerospace solutions, we also offer aerospace maintenance solutions by making the best use of our in-house facilities. With our expertise in aerospace solutions, we have emerged as one of the best aerospace components manufacturers & suppliers in India.