Quality Certification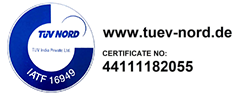 Quick Contact
6363922746 / 741
shivapraveena.v@aceforge.in
v.rajarama@aceforge.in
Forged Aluminum Automotive components
Ace Forge has established itself as one of the most prominent and reliable manufacturer and supplier of forged Aluminium automotive components. We have a vast experience of more than two decades in catering to the automotive industry and created a niche for ourselves.
The quality and reliability of our products have gained us the accolades and trust of our esteemed customers, thereby establishing us as one of the leading forged Aluminum automotive components manufacturers and suppliers.
Forging the future with Aluminum
We aim to provide a wide range of quality, precision and durable forged automotive components. Sine Aluminum is easily malleable, casting and forging it into the desired shape is easier as compared to other metals. For this reason, heavy-impact hammering is done to get the final product.
With technological advancements, precision forgings are used for many highly stressed parts, such as in aircraft, engines and other power units. Forged components have an advantage of near net shape and minimal machining.
Benefits of Aluminum forging
• Economic means of casting into the desired shape as forging reduces machining • Designs can be produced that are devoid of nuts and bolts • Good surface finish • Good mechanical properties and dimensional accuracy
To cater to the ever-increasing demand, we specialize in forged Aluminium automotive components at competitive price.