Quality Certification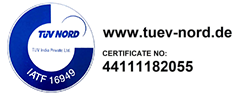 Quick Contact
6363922746 / 741
shivapraveena.v@aceforge.in
v.rajarama@aceforge.in
Forging Aerospace Parts Suppliers
Ace Forge is a renowned forging aerospace parts supplier with expertise in precision manufacturing. We proudly serve industries like railways, automotive, aerospace and more. State-of-the-art manufacturing facilities enable us to cater our customers demand with high quality and precision.
When sky is the limit- Pioneer in aerospace manufacturing
Our products are safe, reliable, low maintenance and durable. We are an ISO 9001:2008 and ISO/TS 16949:2009 certified company. Our experts work closely and are committed to building long-term relationship with clients. We work harder to achieve perfect result on any critical requirements. As a highly driven and passionate for innovation, we understand and value the importance of trust and integrity when delivering the best-in-class aerospace components.
We master excellence in machining, fabrication, assembly and components. Hence, we are a trusted name among forging aerospace parts suppliers.